John was born on January 19, 1981. He died on March 30, 2002. John battled an addiction to crack cocaine. I first became aware of his addiction in 1997, when he was only 16 years old. John had been in an automobile accident, he was a passenger in the back seat. When the car crashed into a tree, he was vaulted into the front seat, landing between the driver and the steering wheel. He became a human air-bag, possibly saving the life of the driver.
I will never, as long as I live, forget the horror of that night. My husband and I returned home from shopping to find a series of messages on the answering machine. One from the sheriff's department, one from the rescue squad, and one from the medivac unit. My son had been air-lifted to Fairfax Inova Hospital, in Fairfax, Virginia. When I contacted the hospital, I was told that my son was code blue, and I needed to get there as soon as possible. Fairfax is an hour drive from where I live, and we had never been there before. We got lost several times on the way there, went to the wrong hospital, but three hours after hearing that my son was code blue, we arrived at the hospital. When we talked to the attending physician and were told that our son was in intensive care, the biggest feeling of relief washed over me. I remember the doctor looking at me like I had lost my mind, here stands a mother happy that her son is in intensive care? Yes, I was, because I thought that he would be dead by the time I got there. So you see, hearing that he was in intensive care meant that he was alive.
The doctor told me that my son had drugs on board. Drugs on board? What on earth was he talking about? Then he explained to me that meant he had drugs in his body. When he told me what the drug was, a feather could have knocked me to the floor.
"Your son has cocaine in his system." I was incredulous! Cocaine was a rich person's drug, wasn't it? At least that is what I thought. My son lay in a coma for a week, a week in which we did not know if he was ever going to wake up again. Thankfully, he did, and we admitted him immediately after his release to a drug treatment facility.
John met Jill, the girl he always intended to marry, at around the same time of the accident. Jill stayed with us, right by his side at the hospital. She stuck with him, even after finding out about his addiction. After the drug treatment, everything was fine for a while. Our minds were at peace, and time took the edge off of the horrible memory of the accident.......
Four years later, I got the phone call again, the phone call saying that my son had, once again, been air-lifted to Fairfax Inova Hospital. De-ja-voix. He was found unconscious in the parking lot of a church, not far from where he lived. He was taken to the same hospital, admitted to the same exact intensive care room, and was for the second time in his young life, hooked up to life support. If you have never seen your child on a respirator, God bless you, I hope you never do. It is so scary to see your child lying unresponsive, breathing only with the aid of a respirator. John had a collapsed lung, multiple bruises and abrasions. No one seemed to know what happened, and John said he had no memory of the event. We speculated that he had been the victim of a hit and run driver. There was also the possibility that he had been robbed, because he was missing all his money from his wallet.
Several months passed, and my son showed up at my door one morning, looking like a victim of war. He was crying uncontrollably, and told me he needed help, that he was addicted to crack, and he needed help getting off. He owed money to his crack dealer, and had been picked up in a parking lot, taken to a dirt road, and tortured. He lifted his shirt that morning, and showed me that he had been cut so many times that I couldn't even begin to count the slashes. He then admitted to me that this was not the first time he had been beaten by the crack dealers, that the time he was found in the church parking lot, he had been beaten severely then, because he owed a large amount of money for the drugs.
With the help of my sister, Janet, who is a recovering alcoholic, four years sober, we began the long process of having John admitted to a detox center, located three hours from where we live. On that long, scenic drive, my son, accompanied by myself and his father, Jill, and his son Bradley, John was so sad, so low, that it tore my heart to pieces. One week later, on the return trip to pick him up, he looked so clean, so fresh, and was more full of hope and dreams than I had ever seen him before in his life. We took him to a place in our hometown, called Serenity House. It is a place for men with addictions to drugs or alcohol. I was so happy that my son made this committment on his own to fight the power that this evil drug had on him. I was so proud of him!
Less than a week later, John walked out of Serenity House, saying that he could fight his addiction on his own.
Five months later, my son is dead. He died from an overdose of crack cocaine. I have lost my only son. I don't think my heart will ever be whole again. I spent my life trying to protect my son, loving him with every breath I have in my body, but love couldn't cure him. If it could, I wouldn't be writing this today. The purpose of creating this web site is to ask anyone who accesses it to write letters to congress, using my son's name, Jonathan Ray Atkinson, to plead with them to pass more and tougher laws to find and put these crack dealers behind bars. My son was only sixteen years old when he was first introduced to crack. That means that there are people out there that are preying on our young children. One of every ten people that try crack, die the first time they use it. One of ten do not become addicted. John was one of the remaining eight, that becomes addicted for life. We as parents, friends, relatives, and as a nation as a whole, are responsible for attacking this drug problem. Don't think that it could never happen to your child, because I am here to tell you that it can. Please help me to help someone else. I cannot do another thing for my son, except to put flowers on his grave. I can, however, try to get the word out to as many people as possible, that yes, crack kills. It is not just a slogan, it is cold, hard, reality. Once again, I urge each and everyone of you to start a campaign of letter writing to congress, using the name of my son, to get something done about this drug called crack, and get the dealers behind the bars where they belong.
If one good thing can come from the death of my beloved son, let it be to save the life of someone else's child. It is too late for mine, he is buried under six feet of dirt at Sunset Memorial Gardens, and all I have left are memories, good and bad. I will never again see my son smiling, never feel his arms around me again, and his son will never grow up knowing the father that loved him so deeply. Do not judge my son, do not judge an addict unless you have walked the proverbial mile in their shoes. My son was a deeply loving person, who got lost along the way.
If you feel so inclined, please send a contribution to Serenity House, Box 601, Fredericksburg, Virginia 22404. Once again, please donate in the name of my son, Jonathan Ray Atkinson, so that his name, and his tragedy, may reach out and help someone else that so desperately needs it.
June 26, 2003
I found a poem today that, to me, could have been written by John. John loved eagles, and the reason was the fact that they could fly so far up in the sky, that they seemed to be free, at peace, with no worries. John told me that the eagle symbolized to him a freedom from addiction, a place that he wanted to be.
I feel that John is soaring with the eagles now. He is finally free of his addiction, of his pain and his heartache.
After you read the poem, please click on the banner below to visit the Healing Eagles website, where I found the poem.
I watched the eagles in the sky,
how they soared in the heights,
how they ridiculed the earth.

In my dreams I swept with them,
forgetting that I was a wounded eagle
whose heart resided in the sky.

My wounds have healed:
I am the one soaring high
and my heart is free.

***************************************************************************************************************
THE MISSING GENERATION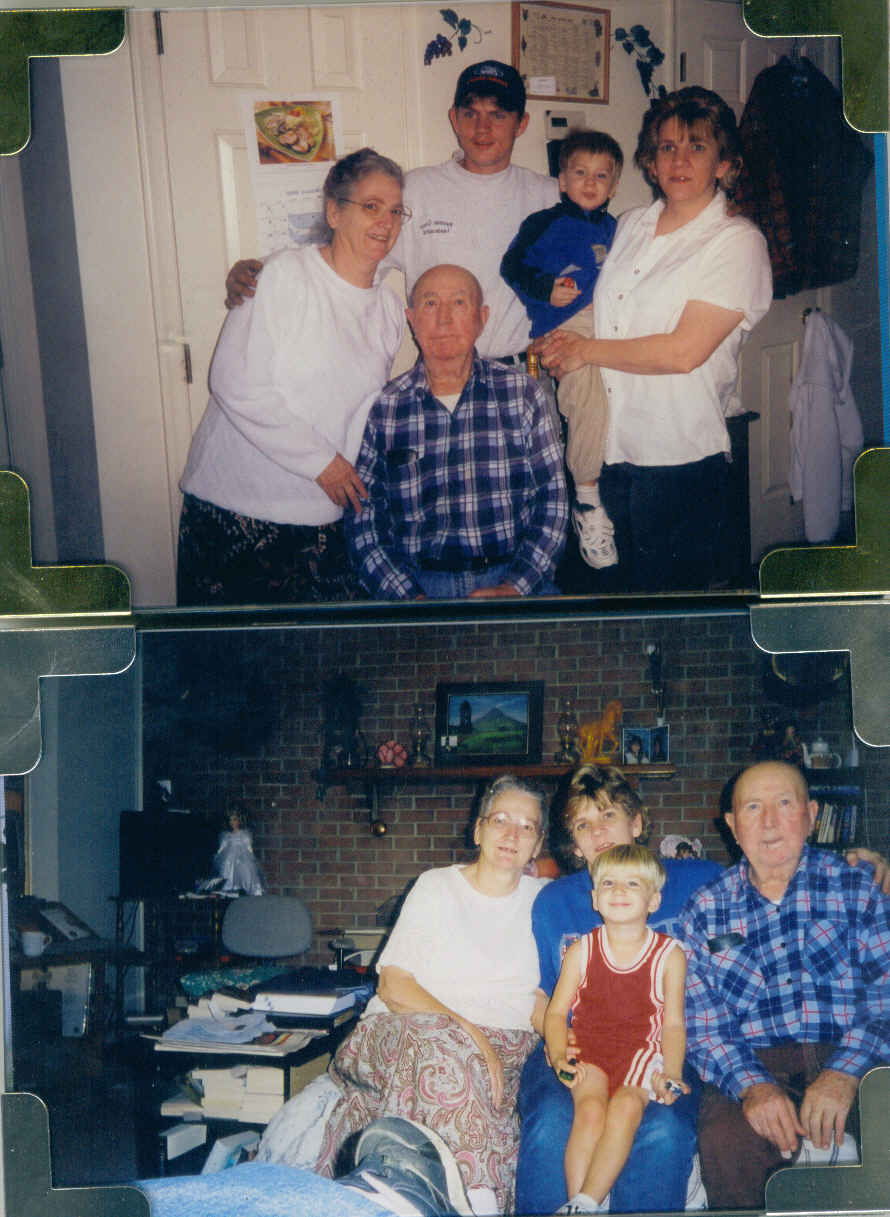 The picture on top was taken at the end of January, 2002. It is a five generation picture, with my grandfather, my mother, myself, my son John,
and my grandson, Bradley.
The picture on the bottom, taken at the end of September 2002, is very hard
for me to look at. Everytime I look at it, I feel as if a knife has pierced my heart, because it is so blaringly obvious that a generation is missing. My son is gone.
*****************************************************************************************************
MEMORIES OF JOHN
JANUARY 07, 2002
FOR SO LONG NOW, MY MEMORIES OF JOHN HAVE CONSISTED OF THE LAST FEW YEARS OF HIS LIFE, WHEN HIS ADDICTION HAD CONSUMED HIM. MY MEMORIES WERE OF A VERY SAD AND BROKEN YOUNG MAN, AND IT HAS ONLY BEEN RECENTLY THAT I HAVE BEEN BLESSED WITH SOME OF THE FONDER MEMORIES OF MY SON. THERE ARE ALOT OF FAMILY MEMBERS THAT WILL ALWAYS REMEMBER ONLY THE ADDICT, AND I CANNOT TELL YOU HOW MUCH THAT SADDENS ME. I WANT MY SON REMEMBERED AS THE DEEPLY LOVING, SENSITIVE, CARING AND WONDERFUL SON THAT HE WAS.
I WILL START RECORDING MY MEMORIES AS I EXPERIENCE THEM. THEY WILL BE IN NO PARTICULAR ORDER, BUT I WANT TO SHARE A SIDE OF JOHN THAT I WANT OTHERS TO REMEMBER.
ONE PARTICULAR MEMORY THAT NEVER FAILS TO BRING A SMILE TO MY FACE IS OF JOHN WHEN HE WAS ABOUT FOUR YEARS OLD. JOHN HAD AN EARACHE, AND I GUESS HIS EAR WAS STOPPED UP, CREATING AN ECHOING OR RINGING SOUND IN HIS EAR. HE PUT HIS EAR UP TO MINE, AND SO EARNESTLY SAID TO ME, "LISTEN MOM, CAN YOU HEAR IT?".
ANOTHER FOND MEMORY IS OF MY TWO CHILDREN AND SATURDAY MORNING CARTOONS. SHELLY AND JOHN WOULD BE HARD TO GET OUT OF BED EVERY WEEK DAY, BUT COME SATURDAY MORNING, THE TWO OF THEM WOULD BOUND OUT OF BED AT SIX IN THE MORNING, AND GO TO THE LIVING ROOM TO WATCH CARTOONS. THE SOUNDS OF THEIR ENJOYMENT, THEIR INNOCENT LAUGHTER, I CAN HEAR TO THIS DAY. SOMETIMES THEY WOULD ACT OUT DIFFERENT CHARACTERS, AND I WISH I HAD HAD A VIDEO CAMERA THEN, TO CAPTURE THEIR MERRIMENT.
THERE WAS A TIME WHEN JOHN WAS ABOUT ELEVEN YEARS OLD. THE HOUSE WE LIVED IN AT THE TIME WAS SURROUNDED BY WOODS. ONE DAY JOHN TOLD ME ABOUT A FLOWER GROWING IN THE WOODS, CALLED 'INDIAN MOCCASIN'. I DECIDED TO GO INTO THE WOODS TO LOOK AT THEM, AND I GOT LOST! THE PIECE OF WOODS I GOT LOST IN WAS NOT VERY BIG, AND I COULD HEAR THE KIDS LAUGHING AND PLAYING IN THE YARD. I TRIED TO FOLLOW THE SOUNDS TO LEAD ME HOME, BUT I WAS LITERALLY GOING IN CIRCLES. I WAS TRYING MY BEST NOT TO PANIC, BUT WAS QUICKLY LOSING THE BATTLE. WHEN I COULDN'T TAKE IT ANYMORE, I SCREAMED FOR JOHN. THERE , IN THE MIDDLE OF THE WOODS, CAME MY JOHN, MY RESCUER, MY HERO. ONE LOOK AT ME, AND HE COULD SEE THE FEAR AND PANIC THAT I WAS FEELING, HE WRAPPED HIS ARMS AROUND ME, AND SAID, "I'VE GOT YOU MOM, FOLLOW ME". HE WAS VERY PROUD OF HIMSELF FOR 'SAVING' HIS MOM. HE WILL ALWAYS BE MY HERO FOR THAT.
ONE MOTHER'S DAY, MY HUSBAND AND MYSELF WERE DRIVING TO MY MOM'S HOUSE FOR A VISIT. LOOKING AT THE GAS GAUGE, I TOLD MY HUSBAND WE NEEDED TO STOP FOR GAS. HE THOUGHT WE COULD MAKE IT WITH WHAT WE HAD. WE PASSED TWO GAS STATIONS AND I URGED MY HUSBAND TO STOP, HE CONTINUED ON. LESS THAN TWO MILES FROM MY MOTHER'S HOUSE, WE RAN OUT OF GAS. JOHN HAD LEFT FOR MY MOM'S AHEAD OF US, SO MY HUSBAND CALLED HIM THERE AND ASKED HIM TO BRING US SOME GAS. JOHN WAS NINETEEN AT THIS TIME. WE SAT IN THE CAR FOR A WHILE, AND HERE COMES MY RESCUER ONCE AGAIN. HE WAS LAUGHING, AND COULD NOT LET THIS OPPORTUNITY PASS TO POKE FUN AT HIS PARENTS! HE SAID, "SOMETHING IS WRONG WITH THIS PICTURE. I SEEM TO RECALL A LECTURE WHEN I RAN OUT OF GAS, ABOUT BEING RESPONSIBLE, AND NOT LETTING SOMETHING LIKE THIS HAPPEN! SHOULDN'T IT BE THE PARENTS BAILING OUT THE KID IN THIS SITUATION, AND NOT THE OTHER WAY AROUND?" HE TEASED US OFTEN ABOUT THAT DAY.
LOOKING BACK, I KNOW NOW THAT JOHN TRIED TO USE MUSIC TO COMMUNICATE WITH ME. I URGE ALL PARENTS TO LISTEN TO THEIR CHILD'S MUSIC. EVEN IF IT IS NOT YOUR PREFERENCE OF GENRE, TAKE THE TIME TO LISTEN TO THE LYRICS, YOU MAY GAIN INVALUABLE INSIGHT INTO THE MIND OF YOUR CHILD. JOHN CAME TO ME OFTEN TO ASK ME TO LISTEN TO A SONG. ONE SUCH TIME, I WAS IN THE MIDDLE OF COOKING DINNER, AND JOHN WANTED ME TO COME TO HIS ROOM AND LISTEN TO A SONG. I TOLD HIM I WAS BUSY, I WOULD COME LATER. JOHN INSISTED THAT I COME NOW, AND I WAS SOMEWHAT IRRITATED, BUT I DID. THE SONG HE WANTED ME TO HEAR WAS 'DEAR MOMMA', BY TUPAC. IT TURNS OUT THAT WAS ONE OF MY PRECIOUS GIFTS FROM JOHN. IF YOU EVER GET A CHANCE, LISTEN TO THAT SONG. AFTER I SAT WITH HIM AND LISTENED TO IT, I CRIED, HE CRIED, I HUGGED HIM AND THANKED HIM FOR THE WONDERFUL GIFT. HE TOLD ME NOT TO THANK HIM, THE SONG WAS HIS WAY OF THANKING ME FOR BEING 'THE BEST MOM IN THE WORLD', AND TOLD ME HE LOVED ME AND APPRECIATED ME. THAT WAS TRUELY A GIFT THAT MONEY CANNOT BUY, AND IT BECOMES ONE OF MY TREASURED MEMORIES.

I thought long and hard before I decided to put the lyrics to "Dear Momma" here. Some may be offended by this song, to those I ask you to feel the overall message of the song. It is from a son who is in jail for selling crack, written to his mother, thanking her for loving him, and letting her know how much her love has meant to him. You may wonder why I would even post it on this website because of the reference to someone selling crack. As I mentioned before, John asked me to listen to this song when he was a teenager. Looking back now, I am struck by the irony of it all. Please allow yourself to recieve the overall message of the song, and to anyone offended by the lyrics, I apologize.
"Dear Momma"
You are appreciated...

When I was young, me and my mama had beef
17 years old kicked out on tha streets
though back in tha time, I never thought I'd see her face
ain't a woman alive that can take my momma's place
suspended from school, scared ta go home
I was a fool with tha big boys breaking all tha rules
shed tears with my baby sister
over tha years we wuz poorer than tha other little kids
and even though we had different daddies
tha same drama when things went wrong we blamed mama
I reminised on tha stress I caused, it wuz hell
hugg'en on my mama from a jail cell
and who'ed think in elementary, heeeey i'd see tha penitentiary
One day
running from tha Police, that's right
Momma catch me--put a whoop'en to my backside
and even as a crack fiend mama,
ya always was a black queen mama
I finally understand for a woman
it ain't easy--trying ta raise a man
ya always wuz commited, a poor single mother on welfare,
tell me how ya did it
there's no way I can pay ya back
but tha plan is ta show ya that I understand.
you are appreciated...... Chorus
Laaaaady, don't cha know we luv ya
Sweeeet Laaaady, place no one above ya
Sweeeet Laaaady, don't cha know we luv ya

Ain't nobody tell us it wuz fair
no luv for my daddy, cause tha coward wuzn't there
he passed away and I didn't cry
cause my anger, wouldn't let me feel for a stranger
they say i'm wrong and i'm heartless
but all along I wuz looking for a father--he wuz gone
I hung around with tha thug's and even though they sold drugs
they showed a young brother luv
I moved out and started really hang'in
I needed money of my own so I started slang'in
I ain't guilty cause, even though I sell rocks
It feels good, putting money in your mailbox
I love paying rent when tha rents due
I hope ya got tha diamond necklace that I sent to you
cause when I wuz low, you was there for me
ya never left me alone, cause ya cared for me
and I can see ya coming home after work late
ya in tha kitchen trying ta fix us a hot plate
just working with tha scraps you wuz given
and mama made miracles every Thanksgiving
but now tha road got rough, your alone
trying ta raise two bad kids on your own
and there's no way I can pay ya back
but my plan is ta show ya that I understand
you are appreciated..... Chorus
Laaaaady, don't cha know we luv ya
Sweeeet Laaaady, place no one above ya
Sweeeet Laaaady, don't cha know we luv ya

pour out some liquor and I remenise
cause through tha drama, I can always depend on my mama
and when it seems that i'm hopeless
you say tha words that can get me back in focus
when I wuz sick as a little kid
ta keep me happy theres no limit to tha things ya did
and all my childhood memories
are full of all tha sweet things ya did for me
and even though I act craaaazy
I got ta thank tha Lord that ya maaaade me
There are no words that can express how I feel
Ya never kept a secret, always stayed real
and I appreciate how ya raised me
and all tha extra love that ya gave me
I wish I could take tha pain away
If you can make it through tha night, there's a brighter day
everything'll be alright if ya hold on
it's a struggle
everyday gotta roll on
and there's no way I can pay ya back
but my plan is ta show ya that I understand
you are appreciated.......



Chorus
Laaaaady, don't cha know we luv ya
Sweeeet Laaaady, place no one above ya
Sweeeet Laaaady, don't cha know we luv ya, Sweeeet Laaaady

Laaaady...[fades]...Laaaady
April 01, 2003
Any doubts I had about including this song here were erased by an email I recieved today from Sue Brunkhorst. Sue and I both lost a child to drugs on the same day, March 30, 2002. In her email, Sue shared with me that Stacey also had asked her to listen to this very same song! Stacey had rapped this song to her mother shortly before she died.What a beautiful memory this song has created for the both of us, having our children dedicate a song that expressed how much they loved and appreciated us. Just another of the bittersweet memories of the children we can no longer hold, the children that left this world on the same day, for the same reason, and were touched by the same song. To John and Stacey, who I know are looking down on us from heaven, Thanks for the song!
Please click on the picture of Stacey above to visit her website. Sue, your daughter is so breathtakingly beautiful!
**************************************************************************************************
Another song that is dear to my heart is "Patience" by Guns and Roses. John, Shelly, and their cousin Phil(who spent so much time at our house, he may as well have been John and Shelly's brother)would crank the stereo up as loud as it would go, and sing along at the top of their lungs. I can't tell you how many times I yelled at them to cut the music down and be quiet. I would give anything in this world to be able to hear them sing this song together again, as loud as their hearts desire.
Patience

Shed a tear 'cause I missin' you
I'm still alright to smile
Girl I think about you ev'ry day now
Was a time when I wasn't sure
But you set my mind at ease
There is no doubt
You're in my heart now
Said woman take it slow
It'll work itself out fine
All we need is just a little patience
Said sugar make it slow and
We come together fine
All we need is just a little patience
Patience

I sit here on the stairs
'Cause I'd rather be alone
If I can't have you right now I'll wait, dear
Sometimes I get so tense
But I can't speed up the time
But you know, love there's
One more thing to consider
Said woman take it slow
And thing will be just fine
You and I'll just use a little patience
Said sugar take the time
'Cause the lights are shining bright
You and I've got what it takes to make it
We won't fake it
Aah, never break it
'Cause I can't take it

...little patience, mm yeah, mm yeah,
need a little patience, yeah,
just a little patience, yeah,
some more pati..
I'll been walkin' the streets to night
just trying to get it right
it's hard to see when so many around
You know I don't like being stuck in a crowd
And the streets don't change, but baby the names
I ain't got time for this game
'Cause I need you,
yeah but I need you,
oh I need you,
woh I need you,
oo This time

June 26, 2003
I would like to share an email that I recieved from John's cousin, Becky. This letter I got from her has touched me deeply, and it gave me another fond memory of my son to treasure:
Bonnie,
I just finished looking at your web page and I wanted to let you know that I am not one of those family members or friends who thinks of him as a drug abuser. When I look at your site and think about Johnny I think about how much fun me, him & Shelly had when we were little, I also think about how much fun we had when we all worked at Stuckey's together and believe it or not every time I eat or feed Tristan oatmeal I think of Johnny because I can remember how much he loved oatmeal especially Maple Brown Sugar. We ate oatmeal just about every morning before you put us on the bus. I am sorry if that is a silly thing to remember. I hope that these things don't upset you, but I just wanted to assure you that not everyone things such negative thoughts about Johnny.
***********************************************************
***********************************************************
Ritalin is the drug that John's doctors used to treat ADHD. On the links page of this website, I have a link that informs the reader of the link between Ritalin and future drug abuse.
I, personally, do believe that Ritalin, which can mimic the effects of cocaine, helped lead to John's addiction. I do, however, want to be fair, and give information on both sides of the issue.
Researchers Say Ritalin Not a Catalyst for Later Drug Use
1/7/2003

New research confirms previous studies that found no evidence that giving Ritalin to children leads to drug misuse later in life, Reuters reported Jan. 6.

Ritalin is prescribed for children with attention-deficit/hyperactivity disorder. There had been concern that the stimulant's chemical similarity to cocaine could lead to later drug use.

But the study conducted at the University of Massachusetts Medical School and the Medical College of Wisconsin found that the two drugs "possess distinctly different pharmacokinetic properties," with Ritalin entering and leaving the brain more quickly than cocaine.

The research involved 147 hyperactive children who were tracked for 13 years into adulthood. "The present results indicate that clinicians probably need not fear that the stimulant treatment of children with attention-deficit/hyperactivity disorder is predisposing those children to later drug use, dependence or abuse," the report concluded.

The report is published in the January 2003 issue of Pediatrics, the journal of the American Academy of Pediatrics.
Drug Resource
Cocaine/Crack

What are the street names/slang terms for it?
Cocaine: Big C, Blow, Coke, Flake, Lady, Nose candy, Snow, Snowbirds, White Crack: Freebase, Rock

What is it?
Cocaine is a drug extracted from the leaves of the coca plant. It is a potent brain stimulant and one of the most powerfully addictive drugs.

What does it look like?
Cocaine is distributed on the street in two main forms: cocaine hydrochloride is a white crystalline powder and "crack" is cocaine hydrochloride that has been processed with ammonia or sodium bicarbonate (baking soda) and water into a freebase cocaine - chips, chunks, or rocks.

How is it used?
Cocaine can be snorted or dissolved in water and injected. Crack can be smoked.

What are its short-term effects?
Short-term effects of cocaine include constricted peripheral blood vessels, dilated pupils, increased temperature, heart rate, blood pressure, insomnia, loss of appetite, feelings of restlessness, irritability, and anxiety. Duration of cocaine's immediate euphoric effects, which include energy, reduced fatigue, and mental clarity, depends on how it is used. The faster the absorption, the more intense the high. However, the faster the absorption, the shorter the high lasts. The high from snorting may last 15 to 30 minutes, while that from smoking may last 5 to 10 minutes. Cocaine's effects are short lived, and once the drug leaves the brain, the user experiences a "coke crash" that includes depression, irritability, and fatigue.

What are its long-term effects?
High doses of cocaine and/or prolonged use can trigger paranoia. Smoking crack cocaine can produce a particularly aggressive paranoid behavior in users. When addicted individuals stop using cocaine, they often become depressed. Prolonged cocaine snorting can result in ulceration of the mucous membrane of the nose.

What is its federal classification?
Cocaine is a Schedule II drug.

Source: National Institute on Drug Abuse (NIDA)






Copyright 2002 © Partnership for a Drug-Free America ®
All rights reserved.
Terms of Use | Privacy Policy | Contact Us
Son, go rest high on that mountain.
Soar with the eagles!

Rest in peace, my son.

You will never have

to suffer again.

"HE ONLY TOOK MY HAND''

LAST NIGHT I WAS TRYING TO SLEEP, MY SON'S VOICE I DID HEAR, I OPENED MY EYES AND LOOKED AROUND, BUT HE DID NOT APPEAR.

HE SAID, "MOM, YOU'VE GOT TO LISTEN, YOU'VE GOT TO UNDERSTAND, GOD DIDN'T TAKE ME FROM YOU, MOM, HE ONLY TOOK MY HAND.

WHEN I CALLED OUT IN PAIN THAT DAY, THE MOMENT THAT I DIED, HE REACHED DOWN AND TOOK MY HAND, AND PULLED ME TO HIS SIDE.

HE PULLED ME UP AND SAVED ME FROM THE MISERY AND PAIN. MY BODY HURT SO BADLY, I COULD NEVER BE THE SAME.

MY SEARCH IS REALLY OVER NOW, I'VE FOUND HAPPINESS WITHIN, ALL THE ANSWERS TO MY EMPTY DREAMS AND ALL THAT MIGHT HAVE BEEN.

I LOVE YOU ALL AND MISS YOU SO, AND I'LL ALWAYS BE NEARBY. MY BODY'S GONE FOREVER, BUT MY SPIRIT WILL NEVER DIE.

AND SO, YOU MUST ALL GO ON NOW, AND LIVE, AND UNDERSTAND...

GOD DID NOT TAKE ME FROM YOU,

HE ONLY TOOK MY HAND."

AUTHOR UNKNOWN

I will always love you, John.

I may never be able to hug you, kiss you, or hold you again, but I promise you, son, I will carry your memory in my heart always. I will treasure the good times, and I will fight the drug for you, maybe we can save someone else. You are and were loved, and I will never let you be forgotten. May your spirit live on through your son, and I will watch over him and Jill for you as I promised, as long as I shall live.
Dear John,
Today is the one month anniversary of your death. It has hit me harder today than ever! I miss you so badly! I think I finally realized today that you are not coming back. It was easier to believe that you were just away for a while, but when you didn't call everyday like you usually do when you are gone, it started sinking in. Son, I hurt so bad! This pain is killing me, but I feel like I have to hide it, because if you are watching me, I don't want you to feel bad, I don't want you to feel like you caused me this pain, like it is your fault. Yes, I am feeling the worst pain, but I don't blame you. You had your own demons, and now you are with God. He will take your pain, John. You will never have to feel bad things again. I know you had alot to deal with in the short time you were here, but you knew that no matter what, you had your momma's love. I am so grateful that I had the chance to tell you that before you left. I will never forget that day you left for Massachuttses, you asked me to hold you one last time because you would never see me again. How did you know that? As tight as I held you that day, had I known that it truly would be the last time, I would have held on tighter, longer, long enough to last me the rest of my life. Oh John, I love you SO much, why did this have to happen? I know I am not supposed to question God's plan, but you could have been so much, it is such a shame. My heart aches with the emptiness, with the loss, I don't see how it will ever get any better. Why? Wasn't my love strong enough? What have I done in my life that was so bad that I had to lose you? What could I have done to change this? I have always been told that when someone you love dies, they come to you in a dream, but all I have are nightmares, I dream that you are hurt and asking me to help you. John, you know that I will do anything for you, I just need to know that you are okay. Surely with everything you had to endure on this earth, you have found peace and happiness in death. I just need to know that you made it okay. You know that no matter where you went, you always had to let me know you made it okay, you know how I worry, and now is no different. I still need to know that you made it there safely. I know that no matter what a person does in their life, if their heart is pure, they can go to heaven. John, I know you did some bad things to get the drugs, but I know that no matter what you did, your heart was pure, so I know that you can get into heaven. God forgives our sins, and you and I talked about that. I know that you knew God, and that you asked for his help. I asked him to help you too, I just didn't know this is how he would help you. At least you can rest, and you are now drug free. God did that for you, John. He fought the addiction that consumed you. He knew that you wanted so badly to stop using, and he took that problem away. I just wish it could have been taken away with you still alive. I will keep your memory alive always. Don't ever think you will be forgotten, because I promise, I will never let that happen! Rest in eternal peace, son. I love you and miss you, today and everyday!
Mom