Memorial Wall
IN LOVING MEMORY OF OUR LOVED ONES LOST TO DRUGS
MAY THEY NEVER BE FORGOTTEN!
If you have lost a loved one to drugs or alcohol, and would like to have them added to this page, I would be honored to do so. Just email me
bonnie542@earthlink.net
with their name and dates, and a picture if you like. If they don't fit a category, I will add a new one.
"If we imperfect humans can look through the
faults of an addict and love him or her, then
imagine how much more can God, who lovingly
created that same person look at an addict with love."

The Rev. Frank Logue

The quote above came from the website "Dying2GetHigh, created by Debbie in memory of her brother, Johnny. Rev. Logue is her priest, and these words brought her, as well as myself, great comfort in knowing that even though our loved ones suffered addictions, they still can go to heaven and be with God. Please take a moment to visit Debbie's site:
IF PERSON HAS A MEMORIAL WEBSITE, YOU CAN VISIT THEM BY CLICKING ON THEIR PICTURE. IF YOU VISIT THEIR SITE, PLEASE TAKE THE TIME TO SIGN THEIR GUESTBOOK, IT MEANS SO MUCH TO THEIR PARENT(S).
PRECIOUS CHILD-A MUST HEAR SONG FOR ANYONE THAT HAS LOST A CHILD! CLICK HERE
He Gathers Broken Souls
BY CYNTHIA J. MACKENZIE

In one moment in time, when all hope seemed far away
When despair weighed so heavily there seemed nothing left to say
When anger & pain were all that he could feel
He decided to leave all the lies he thought were real.

He forgot about the rainbows that follow skies of gray
He forgot about the kindness he witnessed everyday
He forgot about the future he once dreamed could be
He lost sight of all the truth & reality.

The fact that people loved him, the knowledge that they cared
The love they had to offer him the many things he shared
The pain that he would cause just never crossed his mind
He only pictured solitude & the peace that he would find.

Sometimes a gentle spirit in a world that's gone awry
Gets lost & cannot find it's way, can't bring itself to try
When God looks down from Heaven with tender loving eyes
He can see completely every facet of our lives.

It's up to God not man to judge the things that have been done
We are His Creation, in Love He Sent His Son
To walk this earth, to die, to rise & live again
To grant us all salvation, to save our souls from sin.

Each time a sparrow falls lifeless to the ground
Our Father up in Heaven hears that tiny sound
Would He be less vigilant when our lives quickly end
Regardless of the reason, on God you can depend.

For God in all His tenderness can see inside their mind
And when He searches carefully no evil does He find
Just discontent, confusion, pain, & fear, & sorrow
With no hope for today & no vision of tomorrow.

No Malice little forethought, just decisions made in haste
God grieves up there in Heaven for this senseless needless waste
Yet even as the sheep are gathered safely to the fold
Our Lord is so magnificent He gathers broken souls.

He takes them home to be eternally with Him
To never know the torment they knew on earth again.
Peace & Hope & Happiness are instantly restored
When souls cross the threshold of Heavens golden door

All rights reserved by Cynthia J Mackenzie
If 'Broken Souls' touches you, or helps you heal in some small way, please
offer God the Thanks. He led you here, even as He gave me the words to write.
May His Blessings be with you.

Cynthia J. Mackenzie

***********************************************************************************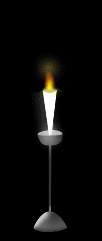 ETERNAL FLAME IN MEMORY OF OUR LOVED ONES
In Loving Memory
A.C. Lawrence
3-30-1972 to 6-25-2002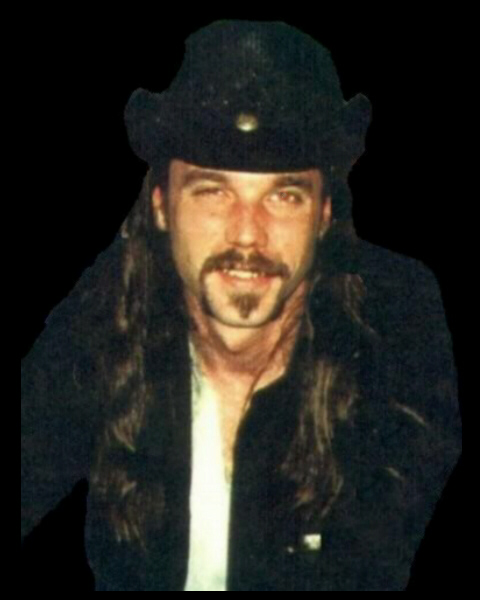 Although space on this page is reserved for those lives lost to drugs or alcohol, I wanted to add A.C. here. A.C. died from a motorcycle accident, not drugs. He did, however overcome an addiction a year before he died, and like Ricky (pictured below), his birthday and John's heaven date are the same. Congratulations, A.C., on overcoming your addiction, and may your Mom find some peace in knowing that you died doing something that you loved.
Al was on the motorcycle trip of his dreams.
He was recreating the road trip from the movie
"Easy Rider" when, on June 20, 2002, he was involved in a serious motorcycle accident.Sadly, Al passed away on June 25, 2002
Please click on A.C.'s picture above to visit his website. Be sure to sign the guestbook while you are there.

The following poem was submitted to me by Carol, mother of Ricky Waehler, Jr. You see, Ricky was worried about how the world would view him, and my John often said the same thing. These were good kids with an illness, and they should not be viewed any other way! John, like Ricky and countless others, wanted to be known for the good people that they were, not for the addictions that took them away from us. This poem was put on Ricky's mass card, and I will now print it here, in dedication to Ricky, John, and all the others that have lost their lives to this illness of drug addiction.
DEDICATED TO THE MEMORY OF
RICKY K. WAEHLER, JR.
MARCH 30, 1982-JUNE 04, 2002
I'd like the memory of me to be a happy one
I'd like to leave an afterglow of smiles when life is done.

I'd like to leave an echo whispering soflty down the ways,
Of happy times and laughing times
and bright and sunny days

I'd like the tears of those who grieve
to dry before the sun
of happy memories that I leave
when my life is done
Carol, this one's for you. If Ricky could talk to you now, this is what he would say. "Somewhere" is heaven, and someday you will meet him there. Please take comfort wherever and however you can. Know that Ricky is not suffering anymore, he is at peace. God will grant you the serenity to accept what you cannot change. We will never get over the loss of our sons, but we must accept it, for we have no choice. Here are the words to the song that brings you comfort. May God be with you, and Ricky will live forever in your heart, until you find "Somewhere".
SOMEWHERE

There's a place for us
Somewhere a place for us
Peace and quiet and open air
Wait for us somewhere
There's a time for us
Some day a time for us
Time together with time to spare
Time to learn time to care
Some day
Somewhere
We'll find a new way of living
We'll find a way of forgiving
Somewhere There's a place for us
A time and place for us
Hold my hand and we're halfway there
Hold my hand and I'll take you there
Somehow
Some day
Somewhere
















BELOVED SONS
JONATHAN RAY ATKINSON
JANUARY 19, 1981
MARCH 30,2002
JASON CORMIER
1982-2001
JASON CHRISTOPHER CARTER HEISLER
1975-2002
ROBERT LABANCE
DECEMBER 29, 1954
AUGUST 16, 1999
JOHN V. KUHNEN
JANUARY 17, 1972
JUNE 14, 2000
CHRISTOPHER WALL
DATES UNKNOWN
MICHAEL HUSER
MAY 16, 1981
SEPTEMBER19, 2001
DANIEL R. WILLIAMS, JR.
1970-2001
RICKY K. WAEHLER, JR.
MARCH 30, 1982
JUNE 04, 2002
To my uncle Clifford Jones a amazing and wonderful man loved his kids and family very much.we miss you very much cricket &family
TRAVIS PFEIL
1979-2002
YOU WENT MUCH TOO SOON TRAVIS, AND LEFT A HUGE HOLE IN THE HEART OF YOUR MOM AND DAD AND THOSE WHO LOVED YOU AND CARED FOR YOU. WE CAN ONLY HOPE THAT YOU HAVE FOUND PEACE WHICH HAD ESCAPED YOU OF LATE. YOU WILL BE REMEMBERED FOREVER!
BRIAN QUINN
DIED BECEMBER 04, 2002
ALL ALONE....
BRIAN, WE HAD OUR MOMENTS, BUT YOUR DEATH HAS HURT ME SO DEEPLY. I THINK OF YOUR LAST MINUTES ON EARTH AND HOPE THAT YOU HAVE FOUND YOUR ETERNAL PEACE. THE LORD MUST HAVE WANTED YOU BAD. I THINK OF YOU OFTEN. YOU WILL BE FOREVER IN MY THOUGHTS. HOPEFULLY NOW MORE OF OUR CHILDREN WILL NOT BE LOST TO THE EVIL OF HEROIN.
SEAN STEPHEN KUKOLECK
MAY 01, 1981
DECEMBER 19, 2001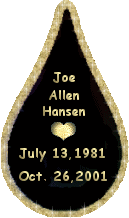 JAMES (JIM) LEE STALLINGS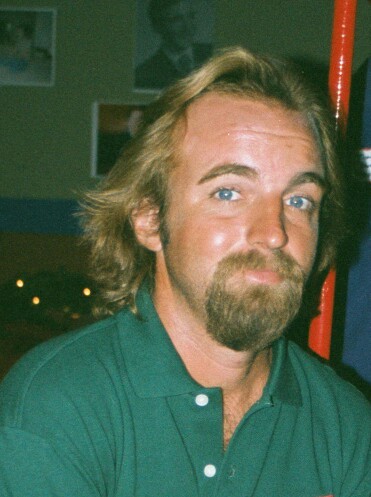 JANUARY 16, 1968-MARCH 19, 2003
BERTRAM JONES
AUGUST 18, 1964-OCTOBER 06, 2002
For My Son
Few words can describe the love I have for you,
Today and always my love will hold true.
Jimmy, I miss how we shared hopes and dreams,
I know you are still around me, or so it seems.
You made me laugh, you made me smile,
You brought love into this world, if only for awhile.
My son, I love you now and forever,
Death cannot erase what we shared. Now or ever.
Peace is now yours, my son.
God holds now, a precious one.
With all my love,
Mom
Jimmy did not die of a drug overdose, but he battled an addiction to drugs for most of his life. He was murdered. Please visit his mother, Peggy's website in his memory, where you can view other original poems by Peggy, dedicated to her son. Click on Jimmy's picture above to visit the site.
The following names were submitted by Erica, who is a recovering heroin addict. She would like to remember her friends, who lost the battle.
PAMELA SMITH-ORR
SANDIE PETROS
WANYE HOENSHELL
ILEENE SMITH
RANDY GROSS

Christopher James Hall
"Chris"
October 06, 1971
December 14, 2000

BELOVED
DAUGHTERS
CHERYL DEAN
JULY 11, 1979
OVERDOSED ON OCTOBER 05,1997
CHERYL LIVES IN A NURSING HOME
IN NISKAYUNA, NY. SHE CAN'T WALK,
TALK, MOVE HER LEGS OR ARMS, AND
IS ON A FEEDING TUBE. ANOTHER ANGEL
LOST TO DRUGS, THOUGH SHE STILL
'LIVES'.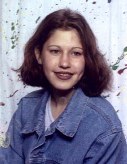 STACEY RENEE WANGER
OCTOBER 03, 1979
MARCH 30, 2002
JANINE ANTONETTE
JUNE 06, 1970
DEC. 06, 1992