HERE ARE SOME LINKS THAT I WOULD LIKE FOR YOU TO CHECK OUT. I WILL BE ADDING MORE AT A LATER DATE.
PARTNERSHIP FOR A DRUG-FREE AMERICA
COMMUNITY ANTI-DRUG COALITIONS OF AMERICA(CADCA)
THE LINK BETWEEN ADHD AND ADDICTION
THE LIST BELOW CONTAINS THE NAMES OF CONGRESS MEMBERS THAT I HAVE WRITTEN TO, ASKING FOR TOUGHER LAWS FOR DRUG OFFENDERS, AND ASKING THAT SENTENCES FOR CRACK COCAINE NOT BE REDUCED:
VIRGINIA SENATE: CRIME AND DRUGS COMMITTEE
JOHN WARNER(R) (SUBCOMMITTEE OF JUDICIARY
GEORGE ALLEN(R) COMMITTEE)
HOUSE MEMBERS: CHARLES GRASSLEY(R)
JOANN DAVIS(R) ORRIN HATCH(R)
EDWARD SCHROCK(R) MIKE DEWINE(R)
BOBBY SCOTT(D) JEFF SESSIONS(R)
RANDY FORBES(R) SAM BROWNBACK(R)
VIRGIL GOODE(I) MITCH MCCONNELL(R)
BOB GOODLATTE(R) JOSEPH BIDEN(D)
ERIC CANTOR(R) PATRICK LEAHY(D)
JAMES MORAN(D) DIANNE FEINSTEIN(D)
RICK BOUCHER(D) HERBERT KOHL(D)
FRANK WOLF(R) RICHARD DURBIN(D)
THOMAS DAVIS(R) MARIA CANTWELL(D)
JOHN EDWARDS(D)
PRESIDENT:
GEORGE BUSH
I WROTE LETTERS TO EVERYONE LISTED ABOVE ON MAY 05, 2002. TO DATE, THE ONLY RESPONSES I HAVE RECIEVED IS AN AUTORESPONDER MESSAGE FROM SENATORS SCHROCK,KOHL, BIDEN, DURBIN, AND SESSIONS.
I THOUGHT IT ODD THAT I GOT A RESPONSE FROM SENATOR KOHL(WISCONSIN) AND SENATOR BROWNBACK(KANSAS) STATING THAT THEY CANNOT RESPOND TO ME BECAUSE I DON'T LIVE IN THEIR STATE. PLEASE NOTE THAT THESE TWO SENATORS ARE ON THE NATIONAL CRIME AND DRUGS COMMITTEE. ALSO NOTEWORTHY WAS THE AUTORESPONDER FROM HOUSE MEMBER BOB GOODLATTE(VIRGINIA), STATING THAT HE WOULD RESPOND ONLY IF I LIVED IN HIS DISTRICT, WHICH I DO NOT.( I DO HOWEVER, LIVE IN HIS STATE)
BE AWARE, ELECTED OFFICIALS, I AM TAKING NOTES!
To those of you that haven't written a letter to congress because you think it won't help, please read the poem below.
It's Up To You!


One song can spark a moment,
One flower can wake the dream.
One tree can start a forest,
One bird can herald Spring.

One smile begins a friendship,
One handclasp lifts a soul.
One star can guide a ship at sea,
One word can frame the goal.

One vote can change a nation,
One sunbeam lights a room.
One candle wipes out darkness,
One laugh will conquer gloom.

One step must start each journey,
One word must start each prayer.
One hope will raise our spirits,
One touch can show you care.

One voice can speak with wisdom,
One heart can know what's true.
One life can make the difference,
You see, IT'S UP TO YOU!


HAVE YOU WRITTEN TO CONGRESS YET?
IF SO, USE THE FORM BELOW TO LET ME KNOW!
TEEN CHALLENGE WORLDWIDE NETWORK
DAMMADD-Dads And Mad Moms Against Drug Dealers
ATTENTION DEFECIT HYPERACTIVITY DISORDER
OUR SPECIAL KIDS/INFORMATION ON ADD/ADHD
DOPAMINE, AND HOW IT RELATES TO COCAINE ADDICTION
KIDNEY PATIENT GUIDE (this link can also be found on 'My Grandson Cody' page)
DON'T DO DRUGS/OUR PAIN/BRANDI SHERER
ANOTHER MOTHER'S PAIN, MICHEAL HUSER'S STORY
Thank you Sherry, for this beautiful gift!
Maybe our sons have become friends now.
SPONSOR TO SPONSOR-A SUCCESS STORY
Addictions and Life Page: A guide to signs of abuse, as will as a listing of slang terms used for various drugs.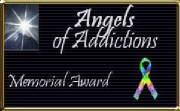 *********************************************************************
Most of my links are drug related, but I found a website that has nothing to do with drugs, and this young lady's smile touched my heart so much that I felt compelled to add a link here. Please click on the picture below, and you can visit Jessica Lyn Bryl's Memorial. Her parents have done a beautiful job with their tribute to their daughter!
*********************************************************************
***************************************************************