SHELLY SUFFERS FROM MANY DISORDERS AND DISEASES. I HAVE TO WONDER IF THERE IS A COMMON THREAD TO HER VARIOUS ILLNESSES. IF SOMEONE IS FAMILIAR WITH THE SYMPTOMS, OR SUFFERS SIMILARILY, PLEASE CONTACT ME WITH YOUR INFORMATION.
SHELLY HAS HYPERTENSION, DIABETES, FOCAL SEGMENTAL GLOMERLOSCLOROSIS WITH HYALINOSIS, CHRONIC/RESOLVING IMMUNE COMPLEX GLOMERULONEPHRITIS, FIBROSIS, HYPERTENSIVE VASCULAR DISEASE, POLYCYSTIC OVARIAN SYNDROME, MIGRANES, AND WILL POSSIBLY NEED A KIDNEY TRANSPLANT WITHIN THE NEXT TWO YEARS. I DON'T KNOW WHY ONE PERSON HAS TO SUFFER SO MUCH! I WOULD GLADLY TAKE EVERY SINGLE ILLNESS UPON MYSELF TO SPARE HER IF ONLY I COULD! IT IS PETRIFING TO CONSIDER ALL OF THESE DISEASES SINGLY, MUCH LESS TOGETHER. SHELLY HAS ALWAYS BEEN VERY STRONG WILLED, AND IF THERE IS A CURE, HER SHEER DETERMINATION IS GOING TO GO A LONG WAY TO COMBATING HER ILLNESSES.
I would like to encourage everyone to become an organ donor. You never know when a loved one, friend or family member may be the recepient of a life-saving organ donation. This can be done at your local department of Motor Vehicles. It takes only seconds to do, and may give someone more than mere seconds to enjoy the rest of their life. Give the gift that keeps on giving, the gift of life!
THE FOLLOWING INFORMATION COMES FROM THE GOVERNMENT WEBSITE FOR ORGAN DONATION. YOU CAN ACCESS THE WEBSITE BY CLICKING HERE
http://www.organdonor.gov
Donate Life

This site is devoted to providing information and resources on organ donation and transplantation issues and to promote organ and tissue donation awareness.

---

How to Become an Organ and Tissue Donor

Transplantations save lives, but only if you help. All you need to do is say yes to organ and tissue donation on your donor card and/or driver's license and discuss your decision with your family.

Each day about 63 people receive an organ transplant, but another 16 people on the waiting list die because not enough organs are available.

Talk to your family members about organ and tissue donation so they know your wishes. (See Frequently Asked Questions, for more information.) Even if you've signed something, your family may be asked to give consent before donation can occur.

Be an organ and tissue donor. You could save or enhance the lives of more than 50 people! To download and print your donor card, click here >
April 01, 2003
I am very proud and excited to announce that I am going to be a grandmother for the third time! I am going to have an addition to the grandchildren I already have, Bradley, who will soon be five years old, the only child of my son, John, and Cody, the first child of my daughter Shelly. Cody was stillborn on August 15, 2001.
Shelly is 9 weeks and 3 days pregnant! Yesterday I was lucky enough to see my third grandchild on ultrasound. I saw the baby's heart beating! I am so excited and happy, and so looking forward to the upcoming birth! This is, of course, considered a high-risk pregnancy, considering the health problems that Shelly suffers from. But it is a miracle! Twice my daughter has proven the doctor wrong, the doctor that said she would never concieve. Shelly has a wonderful team of doctors caring for her this time, and I have every confidence in the team. I have met the doctors, and asked questions, and they are aware of all the risk factors, the dangers of the pregnancy coupled with the kidney disease, and are closely monitoring the pregnancy. Shelly is due on November 1st, my mother's birthday. Chance are, the baby will be delivered earlier though. I will update the pregnancy here as it progresses.
April 09, 2003
Two week check up today. Everything is coming along beautifully! The doctor is a little worried about the protein levels in Shelly's urine, it is currently at 2and1/2 grams, but the doctor said she will not be overly concerned unless is shoots over 3 grams. The doctor also said that the baby will be delivered as soon as possible, as soon as the lungs have developed. She feels that the sooner the baby comes out of the womb, the better his or her chances will be. If you are reading this, please pray for the health of my daughter and unborn grandchild.
June 28, 2003
Shelly is doing very well. I have not seen my daughter this happy in so long, and my heart just swells because of it. She is approaching her sixth month of pregnancy, and so far so good. We are taking this pregnancy one day at a time, and trusting in God that the outcome will be a happy one. Shelly and Jason are going to have another boy! That means a third grandson for me. I am getting more excited by the day. Anyone reading this, please say a prayer for my daughter and my soon to be grandson. There is immeasurable power in prayer, and the more people praying for this baby and Shelly to be okay, the better their chances are.
July 22, 2003
Shelly is doing so much better than we expected! The pregnancy is progressing so well, that she will be induced only two weeks early, instead of the six weeks we were previously told. Her kidney function has improved by 25%!!!! This is a direct result of prayer, there is no other explanation for it! The doctor has said that the baby is slightly larger than normal, and advised my daughter not to buy any clothes in the 0 to 3 month size, because they would be too small, even with delivering two weeks early. Praise be to God!
September 29, 2003
Well, he's here! Since my last post, things went downhill, I will go into more details later, when I am finished with Aaron's page, but for now, I would like to announce the arrival of Aaron Trace Parker, who entered this world at 4:08 p.m., Friday, September 26th, by emergency C-section. It was touch and go for a while, but thanks to God, my precious grandson is here and doing beautifully!
Aaron Trace Parker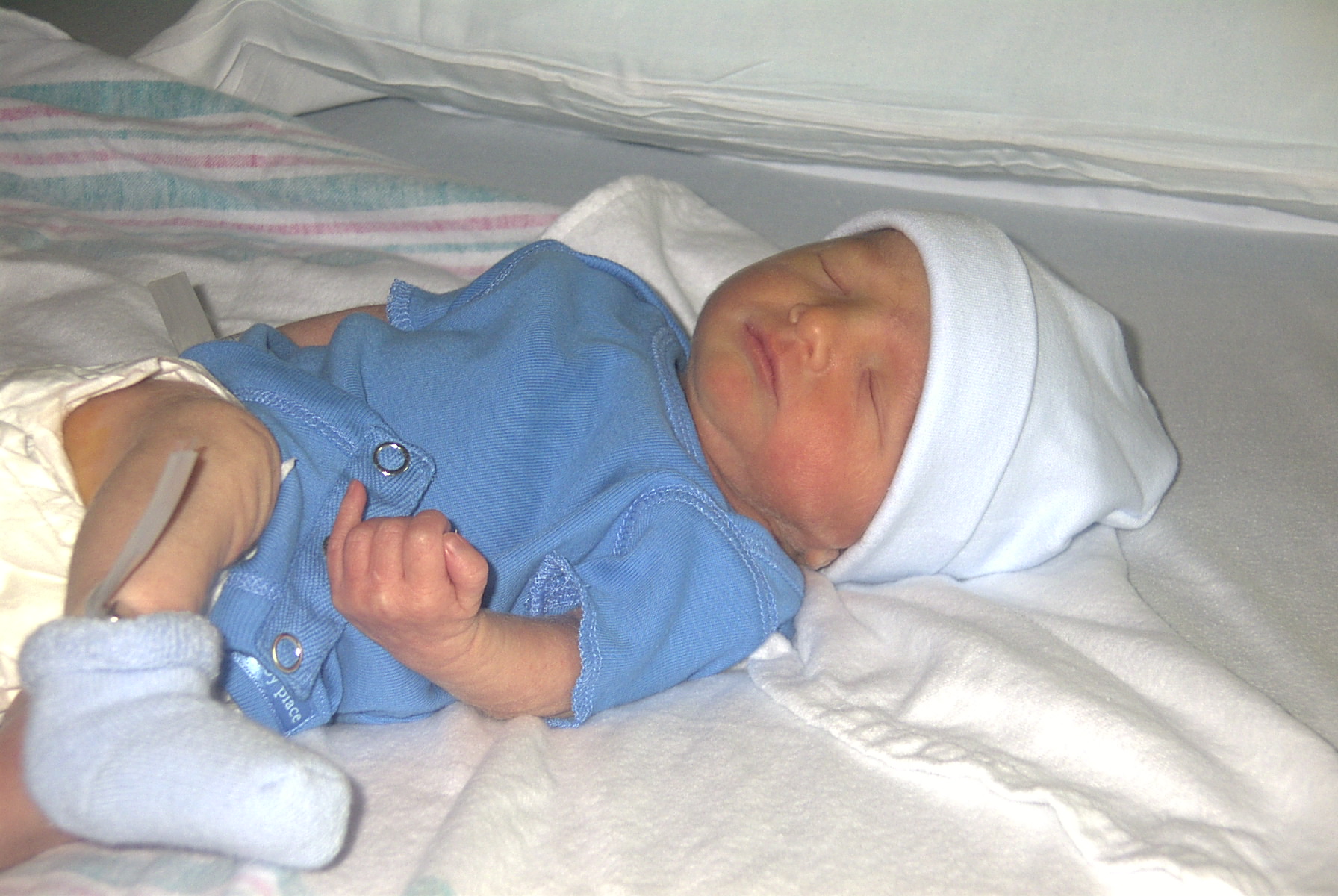 5lbs. 4ozs.- 17and1/2 inches long